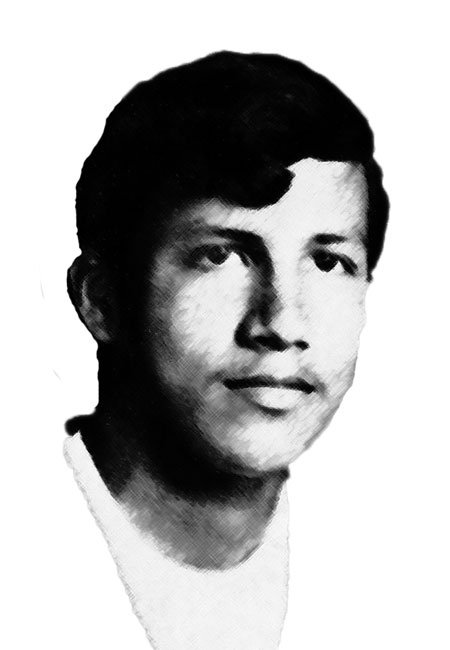 FOOTBALL 1977-79
All CIF 1978-79
TVL MVP 1978-79
All TVL 1977-79

National Record
6 TD Passes Single Game

County Record
57 Career TD Passes

School Records
Touchdown Passes
Passing Yardage
Number of Completions
Completion Percentage

CIF Finalist 1979

BASKETBALL 1979-80
All TVL 1979-80

BASEBALL 1979-80
A Carpinteria native with deep roots in the Carpinteria valley, Henry Gonzales is one of four Gonzales brothers to play for the Warriors – Bobby, Frank (Poncho), Henry and Raymond – and is the father of Aaron, also a Warrior alum. He was a stand-out athlete during his career at Carpinteria High School, earning seven varsity letters in three sports.
Henry played varsity baseball and basketball in 1979 and 1980, earning all TVL honors in basketball both seasons. His most noteworthy accomplishments took place on the football field, where he quarterbacked the team for three seasons. The 1979 season was highlighted by the passing combo of Henry to Jerry Hamilton, who in one game, set a then national record for touchdown receptions in a game with six touchdown passes, and that was done while only playing half of the game. Under Henry's stellar play that season, the Warriors beat Pater Noster, Westlake, and Rio Mesa to earn a trip to the CIF Finals, where they would finish as runner-up, losing to Indio, a significantly bigger school, 26-0.
Henry was named to the All Tri-Valley League football team three years in a row, and was the league MVP in both 1978 and 1979. He also earned All-CIF honors in 1978 and 1979. Henry previously held school records for passing yardage (career, season and game), passing completion percentage (career and season), passes completed (career and season), TD passes (career, season, and game), and is still the school record holder and Santa Barbara County leader for touchdown passes thrown at 57. Henry was inducted into the Santa Barbara Athletic Round Table Hall of Fame in 2005.
Carpinteria High School is fortunate to have Henry serve on its staff as a Security Officer, Assistant Varsity Football Coach, Freshman Boys Basketball Coach and Varsity Softball Coach. He credits his coach, Lou Panizzon, with instilling a positive work ethic in sports and life that he carries with him today and passes on to the student athletes he now coaches. Henry resides in Carpinteria and has one son, Aaron, who was also an award-winning quarterback for the Warriors. Together, the two are only the second father-son combination to earn All-CIF Honors in football for Carpinteria High School.